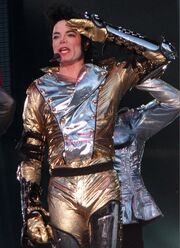 HIStory World Tour was the third and final worldwide solo concert tour by artist Michael Jackson, covering Europe, Africa, Asia, Oceania and North America. The tour included a total of 82 concerts and was attended by approximately 4.5 million fans, beating his previous Bad World Tour with 4.4 million. The HIStory World Tour spanned the globe with stops in 58 cities, 35 countries on 5 continents. Unlike the Bad and Dangerous World Tours, the History World Tour has never been released on DVD, despite many fans requesting it. However, there have been several full concerts leaked on the internet.
Section heading
Edit
Write the first section of your page here.
Section heading
Edit
Write the second section of your page here.
Ad blocker interference detected!
Wikia is a free-to-use site that makes money from advertising. We have a modified experience for viewers using ad blockers

Wikia is not accessible if you've made further modifications. Remove the custom ad blocker rule(s) and the page will load as expected.