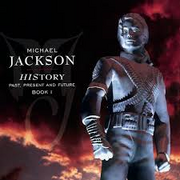 HIStory: Past, Present and Future, Book I (usually shortened to HIStory) is the ninth studio album by Michael Jackson and His fifth Album Released by Epic. It was released on June 16, 1995 by Epic Records. This is Jackson's first album on his own label, MJJ Productions, and consists of two discs: the first disc (HIStory Begins) is a compilation of some of his greatest hits from 1979 forward and This Disc later became Michael Jackson's Greatest Hits: HIStory, Volume I, while the second disc (HIStory Continues) is composed entirely of new material. The majority of the second disc's tracks were written and produced by Jackson, often in conjunction with collaborators.
HIStory was Jackson's return to releasing music following the accusation of child sexual abuse in August 1993. Many of the 15 songs pertain to the accusations and Jackson's mistreatment in the media, specifically the tabloids. The songs' themes include environmental awareness, isolation, greed, and injustice.
About The Album
Edit
Released:June 16, 1995
Recorded:September 1994 – March 1995
Genre:Pop, R&B, rock, hip hop
Length:71:39 (Disc 1) 77:06 (Disc 2) 148:45 (Total)
Label:Epic, MJJ Productions
Producer:Michael Jackson, Jimmy Jam & Terry Lewis, Dallas Austin, Bruce Swedien, René Moore, David Foster, Bill Bottrell, R. Kelly
Song Tracks
Edit
Disc 1 (HIStory Begins)
Disc 2
Ad blocker interference detected!
Wikia is a free-to-use site that makes money from advertising. We have a modified experience for viewers using ad blockers

Wikia is not accessible if you've made further modifications. Remove the custom ad blocker rule(s) and the page will load as expected.