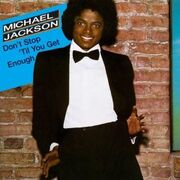 Don't Stop 'Til You Get Enough" is a single written and recorded Michael Jackson. Released under Epic Records on July 10, 1979, the song is the first single from Jackson's fifth studio album, titled Off the Wall. The song was the first solo recording over which Jackson had creative control. Jackson said that the song's lyrics were not a reference to sex, but could be about whatever people wanted them to be about.
Ad blocker interference detected!
Wikia is a free-to-use site that makes money from advertising. We have a modified experience for viewers using ad blockers

Wikia is not accessible if you've made further modifications. Remove the custom ad blocker rule(s) and the page will load as expected.