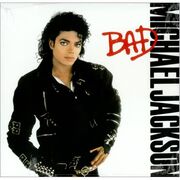 Bad is the seventh studio album by Michael Jackson and was Michael's third solo record released for Epic. The album was released on August 31, 1987 by Epic Records, nearly five years after Jackson's previous studio album, Thriller (Album), which went on to become the world's best-selling album. Bad itself has sold approximately 30 million copies worldwide, certified 9 times Platinum in the United States alone, and has been cited as one of the 30 best-selling albums of all time. The album produced a record five Billboard Hot 100 number one singles, the first and one of only two albums to do so, the second being Katy Perry's 2010 album Teenage Dream. Similar to Jackson's previous music material, the album's music features elements of R&B, pop and rock. This Would be Quincy Last Album With Michael Jackson.
About The Album
Edit
Released: August 31, 1987
Recorded January 5 – July 9, 1987 at Westlake Recording Studios
Genre: Pop, R&B, funk, dance-pop, rock
Length:48:16
Label: Epic
Producer: Quincy Jones, Michael Jackson (co-producer)
Song List
Edit
Music Videos
Edit
Songs Performed On Stage
Edit
Ad blocker interference detected!
Wikia is a free-to-use site that makes money from advertising. We have a modified experience for viewers using ad blockers

Wikia is not accessible if you've made further modifications. Remove the custom ad blocker rule(s) and the page will load as expected.